I'm having so much fun revising the first draft of Life and Death in Narrow Creek, the second in my series of Ms. Dee Ann cozy mysteries.
(Side note: I'm hoping to have the first book, Ms. Dee Ann Meets Murder, in print before the end of this year. It's currently being edited–yet again.)
Back to book two. Life and Death in Narrow Creek begins with the unexpected death of Dee Ann's landlord, Floyd Powell. To help Miss Josie–her friend and Floyd's widow–amateur sleuth Dee Ann Bulluck decides to investigate the untimely passing of poor Floyd.
She discovers her landlord has a rather checkered past. Among his many questionable activities: he's been a bootlegger.
Here's a snippet of a scene as Dee Ann and Miss Josie discover Floyd's still in the woods.
"Have you ever seen such a contraption in your life?" Miss Josie said, examining a brick fire pit with a copper barrel protruding from the top. Some sort of metal pipe extended from the lid of the barrel into another nearby barrel. She leaned over to examine the coals in the fire pit.
"Dead but they look fresh," she said. I wondered how Miss Josie could determine whether coals were the result of a recent fire or one six months ago, but she seemed pretty sure of herself.
"This is what is called the thump keg," she continued, "pointing to the open second barrel into which the pipe led. "Solid bits of mash thump around in it."
"How in the world do you know that?" I asked, giving Miss Josie a sharp look.
"Believe it or not, I found a book in the library this morning on moonshine. I started boning up while I waited for you to get home from school. Did you know moonshine is also called white lightning and mountain dew? I don't think I can ever drink another Mountain Dew soda now without thinking about moonshine."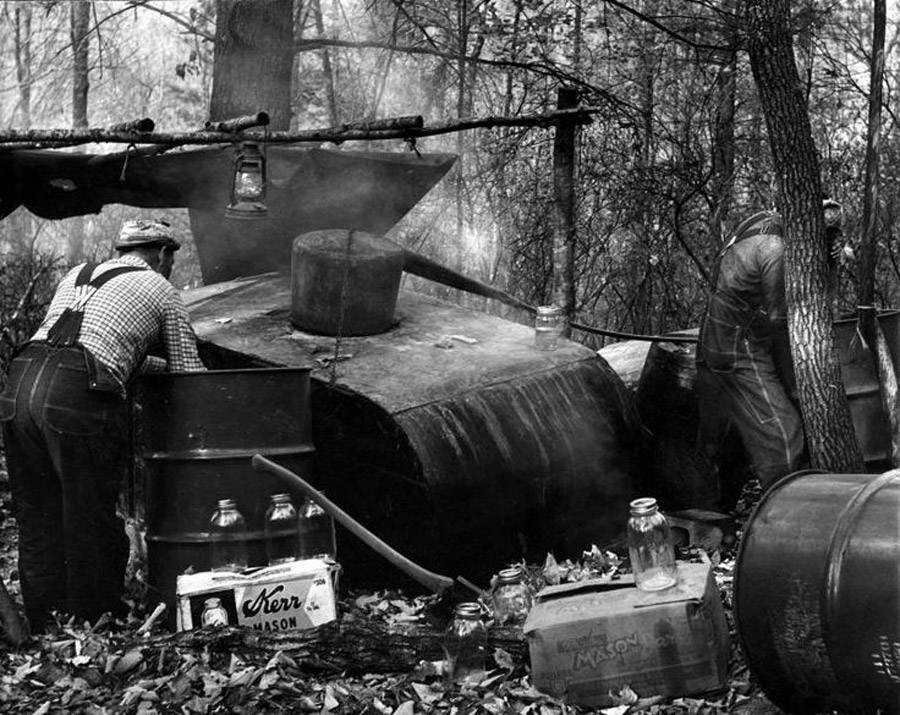 Circa Mid-20th Century Still; Photo Credit: Earl Palmer, Virginia Tech Library
Like Miss Josie, I had to bone up on moonshine myself. I bought the book North Carolina Moonshine: An Illicit History by Frank Stephenson Jr. and Barbara Nichols Mulder. It was a fascinating read, especially the section about bootlegging in the coastal plains.
According to the authors, the Great Dismal Swamp, known for its hostile environment, was the ideal setting for bootleggers.
Photo Credit: ourstate.com
Although the authors declare moonshine's heyday was from the 1930s to the 1970s, there was (and probably still is) activity after that. The book is full of stories of stills in quite a few counties in the eastern part of the state: Gates, Hertford, Bertie, Dare, Pasquotank, Halifax, and Edgecombe, to name some but not all.
One chapter of the book deals extensively with a major moonshine bust in Merry Hill in Bertie County in May 1972. A moonshine factory was set up at a large mobile home disguised as a residence complete with playground equipment and a dog. Almost 500 gallons of moonshine were being produced each day, making it one of the largest stills ever found in North Carolina. Wow.
Floyd's moonshine activity is only part of the plot of Life and Death in Narrow Creek. One day I hope to have this book in print, along with Ms. Dee Ann Meets Murder, so you can read the rest of the story.